Sturgeon Caviar AMUR ROYAL, 50g
Premium delivery.
For orders before 11 AM, same day delivery (except Sundays)
For orders after 11 AM, next day delivery.
We deliver Monday through Saturday.
The expiration date is until October 10, 2023.
Amur Royal Caviar is a product that blends together gorgeous looks and outstanding flavor that stems from its close proximity to Beluga Caviar. A cross between Kaluga (Huso dauricus)) and Amur sturgeon (cipenser schrenckii) this unique caviar is an excellent choice and an alternative to a well-known Beluga caviar, since both taste very similar.
Amur Royal Caviar is large-grained and has a very balanced and saturated flavor. The eggs have a beautiful dark gloss on the outside and creamy yet soft texture on the inside. This sturgeon caviar is a natural product, so it may vary in color.
Grain size from 2.00 mm to 3.0 mm.
Amur Royal Caviar can be enjoyed stand-alone; with blintzes, crackers, or thin sliced baguette where. A single portion weighs about 1oz/28gr. It will taste best if served cold or is slightly chilled in a glass or porcelain bowl with a t spoon made of mother of pearl or a non-metal material.
Caviar Amur Royal will please any one who appreciates good caviar as a gift or shared with friends and family.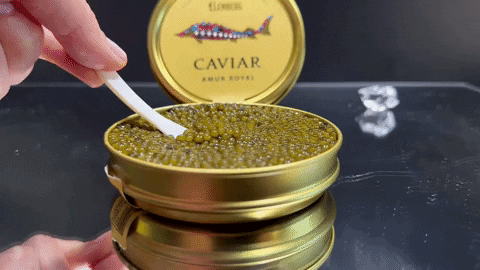 Additional information
| | |
| --- | --- |
| Weight | 0.050 kg |
| Product name | Sturgeon Caviar AMUR ROYAL, aquaculture, tin |
| Ingriedients | Sturgeon roe, salt, preservativ: Borax |
| Processed Fish / Fishing area | Sturgeon (Acipenser schrenckii x Huso dauricus) / Aquaculture |
| Shelf life | Minimum shelf life approx. 5 months, when stored from 0°to +4°C, guaranteed 3 months from dispatch |
| Storage | AFTER OPENING STORE IN THE REFRIGERATOR at 0 to +4 ° C AND USE WITHIN 2-3 DAYS |
| EAN Code | 4260051073200 |
| Packing size | 50g |
| Manufacturer | Lemberg Lebensmittel GmbH | 12099 Berlin, Germany |
| Status | Ready to eat |
Nutritional information (100g)
| | |
| --- | --- |
| Energy |  1184 kJ / 283 kcal |
| Fat |  19,1 g |
| Saturated fatty acids |  5,1 g |
| Carbohydrate |  1,0 g |
| Sugar |  0,0 g |
| Protein |  27,6 g |
| Salt |  3,5 g |
Allergens
| | |
| --- | --- |
| Fish | Yes |
| Wheat flour (gluten) | No |
| Crustaceans | No |
| Eggs | No |
| Peanuts | No |
| Soya | No |
| Milk | No |
| Nuts | No |
| Celery | No |
| Mustard | No |
| Sesame seeds | No |
| Sulphur dioxide and sulphites | No |
| Lupine | No |
| Molluscs | No |